December 9, 4:00 P.M. Class: Salmon Three Ways Presented by Skuna Bay
December 09, 2023 04:00 PM
Learn Three Japanese Preparations of Salmon with Chef Elena Yamamoto of Bessou 
25 11th Ave, New York, NY 10011, USA
While favored on restaurant menus, salmon can be an intimidating ingredient to elevate at home. That will no longer be a challenge after you take this class with chef Elena Yamamoto of the beloved modern Japanese restaurant Bessou. In this hands-on class, chef Yamamoto will demystify this versatile protein using Skuna Bay Salmon. This sustainably farmed ASC (Aquaculture Stewardship Council) and BAP (Best Aquaculture Practices) certified ethical seafood operation is located in the cold, glacier-fed waters of Vancouver Island. Students will learn how to prepare the premium fish in three distinct ways:
Salmon Belly Simmered in Sake Kasu and Miso Soup
Cured Salmon Sashimi with Crispy Rice
Miso and Yogurt–Marinated Roasted Salmon
Fried salmon skin chips made with the leftover salmon skins, and rice, pickles, and sake will accompany the dishes, making it a sophisticated meal guests will be able to replicate at home.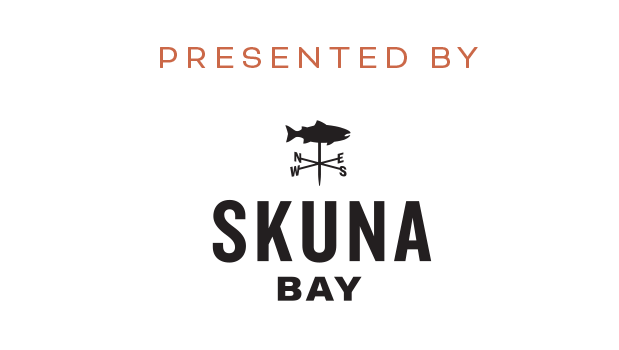 General Admission: $95
About Elena Yamamoto: 
Elena Yamamoto is a chef with a background in art. After leaping into the culinary world with back-of-house jobs at Momofuku Milk Bar and Mission Chinese, she moved to Japan to truly pursue cooking and learn the magic of using hyper-seasonal and fresh ingredients. She brought her experience back to the U.S. and became co-chef at Karasu. Elena's philosophy is centered around using authentic Japanese ingredients and creating artful dishes. 
 About Skuna Bay: 
Skuna Bay is a high-quality salmon brand of Grieg Seafood valued by top restaurants, leading chefs, and premium retail stores. Raised in the natural environment, the salmon is looked after by the most experienced salmon farmers. The cold, glacier-fed waters of Vancouver Island provide the perfect salinity and strong tidal currents to allow for the best tasting salmon. Mindful of nature, they are proud of their dedication to the environment, the local communities, and the sustainability of their ocean waters. 
Tickets to events held at Platform at Pier 57 by the James Beard Foundation cover the cost of food, education and a unique dining experience. Meals are prepared by culinary masters from all regions of the United States and around the world. Unless otherwise stated, alcoholic beverages are provided on a complimentary basis and are not included in the ticket price.
James Beard Foundation events permit guests age 21 years and older to attend events where alcoholic beverages are served.
Event Policy
Reservation Policy:
All reservations are non-refundable and must be made in advance. Should the event be cancelled due to any unforeseen circumstances, including COVID-19, JBF will offer a range of options, including ticket exchanges, the option to donate tickets, or a full refund. For more information, contact
platformbyjbf@jamesbeard.org
.
Alcohol Disclaimer:
James Beard Foundation events permit guests age 21 years and older to attend events where alcoholic beverages are served.
Dietary/Food Restrictions Policy:
Events at Platform by JBF are special one-night-only menus and we do not offer a la carte menus. If you have serious food allergies, we will work with the visiting chef team to do our best to accommodate but cannot guarantee that alternate options will be available for every course.
Purchase Now